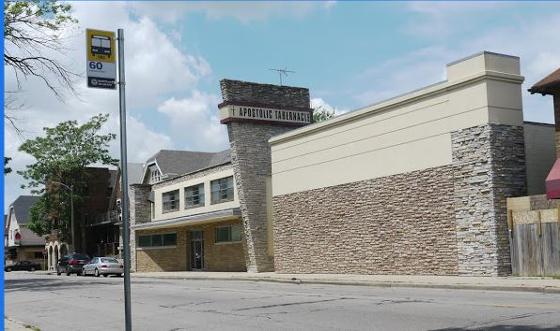 Apostolic Tabernacle Church
At Apostolic Tabernacle we care and attend to the whole man/woman. This is why we have put together these procedures and practices for cases of emergency. In addition to depending on God for our security and safety, we believe it is prudent to have procedures in place to reinforce or operation.
Evacuation Procedures
Fire and evacuation alarms are intended to alert building occupants that a fire or other life-threatening situation exists. Upon hearing the alarm, everyone should leave the building immediately. In the event of a fire, the following steps should be taken to ensure the safety of all building occupants:
Activate the fire alarm.

Call 911 immediately and provide information.

Assist injured personnel or notify emergency responders of the medical emergency.

Exit the building following emergency maps.

Assist physically impaired individuals to a secure area and notify emergency responders.

Ensure all personnel are out of the building.

Use a fire extinguisher only if safe to do so and you have been trained.

Assemble personnel at a remote location noted on evacuation maps.

Report hazardous conditions.

Stay low if confronted with smoke. Check closed doors for heat before opening.

Stay away from the building until it is safe to return.
More on what to do
Topics
Threats
Emergency Evacuation Maps
Injury / Incident Report
Threats
In the event you receive a threat call (i.e. bomb threat, armed assault, custody issues), remain calm; if possible, have a pre-arranged signal to alert other personnel to listen to the caller also. If possible, advise the caller that the detonation of a bomb could main or injure innocent people.
In the case of an armed attacker the first advice is run, if you can't run, hide, and if you can't hide, fight. That's why it is very important to know your surroundings. Learn the emergency exits and emergency numbers.
Emergency Evacuation Maps
Evacuation maps are provided for us to learn the following locations:
First Aid Kits
Smoke Detectors & Carbon Monoxide Detectors
Fire Extinguishers
Emergency Kits (To go Kits)
Please see the attached map. If you have difficulty understanding the map/floor plan, please speak to Elder Neil (414-255-9388) for more information.
Injury / Incident Report
If an injury occur during an evacuation, it is important to maintain accurate records of any injuries incurred during an emergency in case of insurance or liability questions. The incident report must have the following:
Date
Name of injured person
Contact info
Where the injury occurred
Description of injury
Witnesses
Action Taken/Medical Treatment Provided.
Corporate Office (414) 255-9388
Email: caddcorp@gmail.com
Copyright CADDCORP LLC. All Rights Reserved.